I am trying to approach this next school year with as many hopes and dreams as the others, but I'm finally learning to be more realistic about what our school year might actually look like.
I dream of those beautiful Instagram looking school days, but those are just short snap shots into what might be the only perfect moment of the day.
I'm not as nervous about starting high school this year as I am about having a baby in August, and juggling the new baby and our homeschool schedule. I plan to take it one day at a time and just do the basics for the first month while the baby is still little. We started school this week, and plan on taking off some of August and then jump back in again in September. We will see how that all works out!
I carefully thought through everything we picked for this school year, knowing I needed my older children to be more independent because of the baby coming. I involved them in a lot of the decisions to get their feedback and make sure the curriculum we picked would be something they like and enjoy.
Just an FYI, this year my oldest four children are getting up at 7:00 AM (that's the goal at least!) and reading scripture on their own, and then we do a devotional time together right after breakfast that includes scripture and character training time. I don't have it listed below as I'm not using a specific curriculum.
Make sure you read down to the very bottom to enter a HUGE homeschool giveaway for Rainbow Resource! Two winners will each win a $250 gift card to Rainbow Resource! 
To keep myself organized and to schedule out our weeks, I'll be using our Homeschool Planner again this year. I love that it is undated so you can use the same file year after year and just print it off again. It also includes enough room for several children!
9th Grade Curriculum
Our first year of high school!! I feel like these last few years are going to slip away quickly!
Geography – We are doing a year of World Geography for 9th grade, and plan to use the North Star Geography program this year. I'll be honest, I haven't found a world geography program for high school that I'm 100% in love with. This is the one I settled on, and I'll be adding lots of living literature books to go along with it.
Science – As usual, we will continue with Apologia. This is the one curriculum I have stuck with since we started homeschooling and I see no reason to switch. We will use the Biology book, and we made the decision to join a co-op just for our oldest child to attend the biology class each week. He has to turn in his tests to the teacher and she grades them, and they do the hands on labs there. That will be helpful!
Math – I seriously looked at lots of different math programs when we attended conventions this spring. With a struggling math student and going into Algebra 1, I just wasn't sure what we should do. After talking to the math tutor we hire, and weighing all my options I'm going to continue with Teaching Textbooks. I really don't see any reason to switch at this point, and it's the longest we have stayed in a math program. I know it's hard to keep switching math programs around, so my plan at this point is to keep him in Teaching Textbooks through high school.
Language Arts – We are using the High School Language Arts program that The Good and the Beautiful came out with. He has used it for a few days and so far I'm in love with it!! It looks to be an excellent program.
Spanish – For a foreign language credit this year he is going to use Rosetta Stone Spanish. I have no clue how it will go, but we will give it a try!
Writing – I'm having both boys go through Cover Story this year. They will start it next week (I was a little late in getting some of the curriculum ordered!). We watched the sample DVD's that we grabbed at conventions this spring and they loved what they saw! It is extremely well done, and will hold their attention!
Literature – He is reading through the BJU 9th grade literature book and I'm asking him the questions. That's about as intense as we are doing with that, but it's already providing good discussions. I am working on putting together a list of classic books I want him to read this year for literature. He already started Great Expectations by Charles Dickens, just to give you an idea of what might be on my list.
Music – He takes weekly cello lessons and is currently in Suzuki book 4. He started lessons when he was 11 and has stuck with it, though we definitely have to keep him motivated to practice each week! He plays in a string group each spring and fall, and just finished a week long music camp that he loved!
7th Grade Curriculum
Math – Our son will be using Teaching Textbooks 7th grade online. I can't express how thankful I am for Teaching Textbooks and the help it is in our homeschool days!
History – He requested to go through Mystery of History Volume 4, and I was happy to go along with that. He used volume 3 last year with Heart of Dakota and it was his favorite book to read through. I'm working on creating a master schedule for his weeks, so everyday he knows exactly what to do. I have seven weeks scheduled so far, it takes time but is so worth it! I'm using the suggested book list and having him read through books each week that go along with the time period. He started Great Expectations by Dickens and will take a semester to go through that. I heard some complaints the first day, but now he seems to like it!
Science – We are continuing with Apologia and he is starting the big leap of using General Science for 7th grade. It's such a jump from the elementary books that Apologia puts out, but I don't require the tests to be used in 7th grade. I do require the notebook to be used, but they use those with the elementary books as well so it's not something new.
Language Arts – He is going through The Good and The Beautiful Language Arts. I'm having him go through 2 lessons a day of level 4 and I'm hoping to get through level 4 and 5 this year. This program is not based on grade levels, but I would still like him to get a little further along before we jump into high school.
Writing – He will be using the Cover Story writing program with his older brother. He loves to write stories but hates when I assign him a specific topic to write about, so I'm hoping he loves this program since it's more creative.
Art – He really wants to learn more about drawing this year. I subscribed to a month long trial of Sparketh, but so far he is not impressed. If you have ideas for drawing (especially how to draw people), I'd love to hear!
Literature – The novels that are suggested in the Mystery of History books will make up a lot of his literature this year. I'm sure I will add more as I go throughout the year though.
Music – He is working on practicing piano again, and I will be having him read books on composers this year. I doubt we will do a formal music curriculum this year, though it's always my goal!
Character Training – We will continue to use Character Badges to implement daily character training, as well as books in our morning devotional time such as Laying Down The Rails For Children.
5th Grade Curriculum
Math – Teaching Textbooks 5th Grade online.
History – She is using  America The Beautiful by Notgrass, and after seeing her two older brothers go through this she is pretty excited to be old enough to use it herself! This curriculum fits her personality like you wouldn't believe. She loves having a list to work through by herself and can work through the assignments given without me getting onto her about doing them.
Science – Apologia Land Animals. She wasn't super excited about starting this one, but already is coming to me with interesting facts that she is learning. I think it will be a good year!
Language Arts – She is using level 4 of The Good and The Beautiful. She wasn't crazy about level 3 that we did last year, but so far this year she adores level 4! I'm hopeful that continues! I think it helps that level 4 is more independent, so she does not have to wait on me to do it.
Music – This is her 4th year of playing violin and taking lessons, and she also plays in a string orchestra in the spring and fall.
Literature – She will use the literature that is assigned in America The Beautiful, as well as whatever else I assign her.
Character Training – We will continue to use Character Badges to implement daily character training, as well as books in our morning devotional time such as Laying Down The Rails For Children.
3rd Grade Curriculum
Math – We use Horizons up until 3rd grade, and then we switch to Teaching Textbooks. She does ok with math, but never loves doing it. 😉 I'm hoping that she will enjoy doing it on the computer this year.
History – We are doing several things this year for history. I'm doing the Playful Pioneers with her, but she also wants to be like her older siblings and have her own work to do by herself. So far I'm having her read a  but I'm thinking of ordering her the Notgrass Elementary program if I can fit it into my budget. That would be for her to do on her own. She really likes the time we do together with the Playful Pioneers. We listen to the Little House books on audio, and then it's been so good for her to narrate back to me. Normally the older children tend to take over the narration time, and this is just for her and our 1st grader. 🙂
Science – Right now she is doing the BJU long distance learning for science. I normally start Apologia in 3rd grade but I don't think I can manage adding that into our day with the new baby. I'm leaning towards ordering the audio of the Astronomy book for her to listen to, while she follows along in the book.
Language Arts – We are doing The Good and The Beautiful together. I think the lower levels can be pretty intense with grammar, but so far so good. We are still finishing up level 1. Can you tell a common theme here, grammar is not our strong subject! 🙂
Literature – She will read through the BJU 3rd grade literature books, and then lots of novels that I give her this year. It took a long time for her to really take off with reading, but this summer she started loving to read chapter books and I'm amazed with how well she is doing. It just goes again to prove that children don't have to read at the age of six!
Character Training – We will continue to use Character Badges to implement daily character training, as well as books in our morning devotional time such as Laying Down The Rails For Children. This girl has responded SO well to Character Badges, and is highly motivated to fill up her obedient chart! She recently earned another bike ride with her dad and a trip to Coldstone for ice cream afterwards, with the coins she earned from her Character Badges chart! She loved doing that!
First Grade Curriculum
I try to keep first grade pretty simple! We still don't have to record hours for our state (they have to be 7 at the beginning of the school year, she turns 7 in December). My focus in first grade is primarily math and learning how to read.
Math – We didn't make it through all of the Kindergarten Horizons books last year. If I'm being honest, we didn't make it through the first book! It was rough making that a huge priority when I had older children that I had to focus on and I was dealing with all the yucky first trimester sickness. I saw that the Good and The Beautiful came out with a K math program, and after I had her do the online test to see if she could pass the K level I decided to do this with her. We got it in the mail a few days ago and started it, so far we both LOVE it! I'll might go ahead and have her do a lesson of Horizons 1st Grade math as well, just so we don't get behind in math, but the hands on approach to The Good and The Beautiful math is wonderful for her!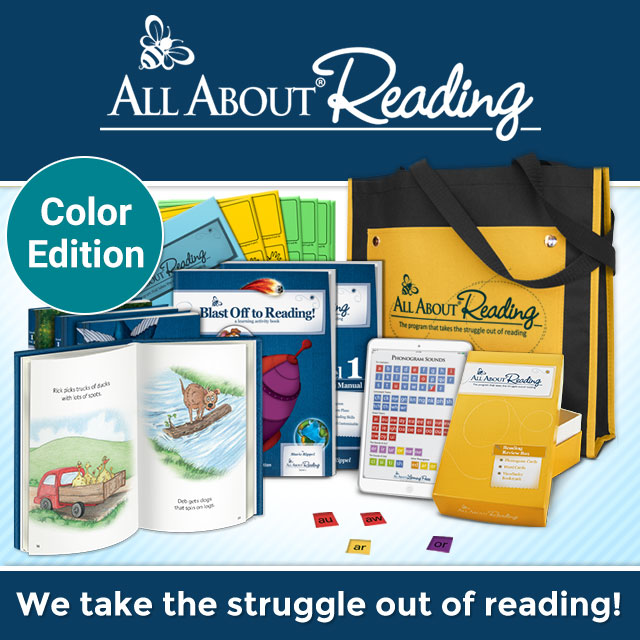 Reading – We are using All About Reading Level 1. It's been a slow start and I'm reminded once again of why potty training and teaching a child to read is high on my list of things I wish I could skip as a parent!! I always have to take deep breaths and remind myself to be super patient as we sound out ever-so-slowly one sound at a time and then try to blend the word together.
I've used the All About Reading level 1 with my other girls, and find myself always going back to this curriculum. I love that it tells the parent exactly what to say, it's hands on for the child with the letter tiles (this year we are using the app on our iPad), and I've learned to take the first half of the book as slowly as my child needs. For example, we took 3 days to complete the second lesson. It's just the pace that she needs to go, and slow but sure wins the race!
History – She is doing the Playful Pioneers program with her older sister, which includes more than just history! Hands on art projects, narration time, cooking in the kitchen and more! I think it will be a great year together!
Preschool 
We will be doing several years of Preschool as Sophia is only 3 right now, but this girl has begged me to do school like you wouldn't believe! She actually is getting the concepts so it feels worth putting the effort into doing this each day with her. If we skip a day she is very upset! We are using the Peaceful Preschool program, as well as lots of free printables I find on Pinterest. I'm holding her off on doing a lot of handwriting type pages until I order these pencil grips for her to try. I've seen how she holds her crayons and pencils and I don't want to develop a really bad habit, but she wants to be tracing and doing work pages.
Believe me, I know she is young and I'm not stressed about starting her off really young on school. This is all because she truly wants to do this!
Are you ready for a new (home) school year?

Perhaps you've already started your year, or perhaps your school year never ends (you homeschool year-round). Either way, I know the strain of trying to come up with a large enough homeschool budget! It feels like it gets harder each year, the older my children get!
I've gotten together with a great group of homeschool bloggers to help you out by giving 2 moms a gift card they can spend on their homeschools.  How does $250 sound in helping you buy curriculum, books, games, puzzles, or whatever educational supplies you might need?  Two people will win a $250 gift card to Rainbow Resource Center!!

We know homeschooling can put financial strain on families – whether it's from living on one-income or buying curriculum for mulitple children – the financial aspect of it can be stressful.  Our hope is that we can bless a couple of homeschool families (although we wish we could bless many more) so they can buy the curriculum and supplies they need for their school year.
To enter for your chance to win, simply use the Rafflecopter form below to enter.  Now I know that is quite a few entries for you, but each of these bloggers generously chipped in their own money to bring you this giveaway, so I hope you will take the time to do all of the entries.  And hey, the more entries you do, the better your odds are of winning!
a Rafflecopter giveaway

Giveaway ends July 27th, 2018 at 11:59pm ET.  Must be at least 18 years of age.  Must be a resident of U.S. or Canada to enter.  Selected winners will have 48 hours to respond to email notification to claim their prizes or another winner will be drawn.  By entering this giveaway, you agree to be added to the email lists of the participating bloggers.  Please be sure to read the Terms & Conditions upon entering the giveaway.
*Affiliate links are used in this blog post.