I view potty training and teaching reading in about the same light. In other words, I dread it. Thankfully though, the third time around has been so much easier with the "All About Reading" program!
With our oldest son I tried several different reading programs. I always grew up hearing stories of how I was reading the Little House books when I was 6 and I sort of expected the same out of my children. My son was going on 8 by the time he started reading really fluently. Now I can't keep him out of books!
Our second son basically taught himself how to read. I started him on the basics and he took off by himself. There are pluses and minuses to that. We didn't keep going with a phonics based program as long as we should have, so he doesn't have some of the phonics rules in his head to go back and rely on.
When it was time to teach our third child to read, I was really dreading it. I was hoping that teaching a girl would be easier. Honestly, I haven't found that gender makes a difference here. : )
Olivia doing an activity from All About Reading Pre-Reading
The curriculum that I'm using, however, has made a considerable difference. It's helped my attitude as a teacher and made our reading lesson time go a lot smoother.
All About Reading has an extremely solid program that is so incredibly teacher friendly! I couldn't be happier with the program and plan on using it to teach the rest of our children how to read.
As a busy homeschool mom I don't want an elaborate $300 reading program that comes with a huge kit I have to keep together and use. I've also tried the highly recommended basic reading programs (like "Teach Your Child to Read in 100 Easy Lessons") and they just don't work well for us. This has the perfect mixture of learning and fun activities, plus the price is affordable.
Some Reasons I Love "All About Reading"
1. It tells the teacher exactly what to say. This is huge for me. With five children there is a lot of activity going on during the day. We might be doing our reading lesson on the couch together, but the younger two girls are playing on the floor right by us, and the older two have their grammar DVD going on in the other room. I need a program that is super easy and very clearly laid out. I never struggle with knowing what I'm supposed to do or say with All About Reading. I feel confident as a teacher using this program.
2. The lessons build on each other slowly. For the most part I think the lessons don't move too fast. In the middle of Level 1 we had to stop for a few months and just focus on readers and reviewing words, as she wasn't ready to keep going. Once we picked it back up she was more than ready to keep going. Every child is unique, just being sensitive to the struggles and strengths of your child is important.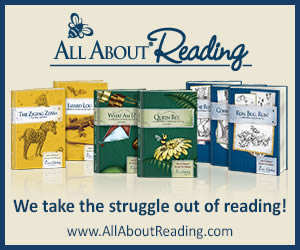 3. I love the flash cards and tiles that go along with the series – and who can forget the activity pages! I think the combination of all three of these things makes the program very unique. Carrianna loves it when I let her use chocolate chips to mark letters on certain activity pages. It makes the program even more fun! 🙂
4. The curriculum is not foolish. I've said this before and I'm sure I'll say it again – finding curriculum that is not full of silly illustrations and foolish text is vitally important to our family. This curriculum can be funny, and it grabs the attention of the child (Ziggy the Puppet is wonderful!) but it doesn't cross over into foolish nonsense.
5. Writing is not included in reading. I love this aspect of it! I've found that your ability to write and your ability to read does not always come at the same time. I'd rather add in my own writing program, and the amount I want my child to do separately. We use A Reason for Handwriting and love it!
6. There is no teacher prep time needed each day. When you receive the set in the mail you have to tear the flash cards apart along the perforated line and put in the box that holds the cards. Other than that you can just open the book and start the program! Some days you have to cut apart little word cards and staple them together, but I do that while my child is reading to me.
7. It does not take a huge chunk of time out of our day! With soon to be six children, I don't have an hour to devote to a reading program for one child. It takes us about 15-20 minutes to do a lesson, sometimes 30 if she is struggling with new words.
We have just a few lessons left with All About Reading Level 1 and will be moving right along to Level 2. Marie Ripple, the creator of these amazing programs has also written a spelling program to go along with the reading program (I wrote a review about it here). She suggests getting through the level 1 reading, and then starting the All About Spelling level 1 with the All About Reading level 2. So we will be doing that next week!
I appreciate that Marie Ripple does not stress grade levels. Carrianna is in first grade and will turn seven next month. I know some children have already gotten through level one by now, but she really needed to take this pace and I'm ok with where we are at! If she is anything like her older brother, she is on the verge of just taking off in reading and will spend her afternoons curled up on the couch reading. 🙂
If you are looking for a new reading program I highly recommend giving this a try! This company has an unbelievable return policy – they give you a full year to return the material for your full purchase price, excluding shipping. What outstanding customer service!
Are you overwhelmed with what level to start at? Every level has a free placement test, plus they also offer downloads of each book (teacher guide, student activity book, and readers) so you can get a better idea of how the books are laid out!
*My disclaimer…because you just have to put it in! I received All About Reading Level 2 to review, but all thoughts are my own and I was not paid to write this review!*