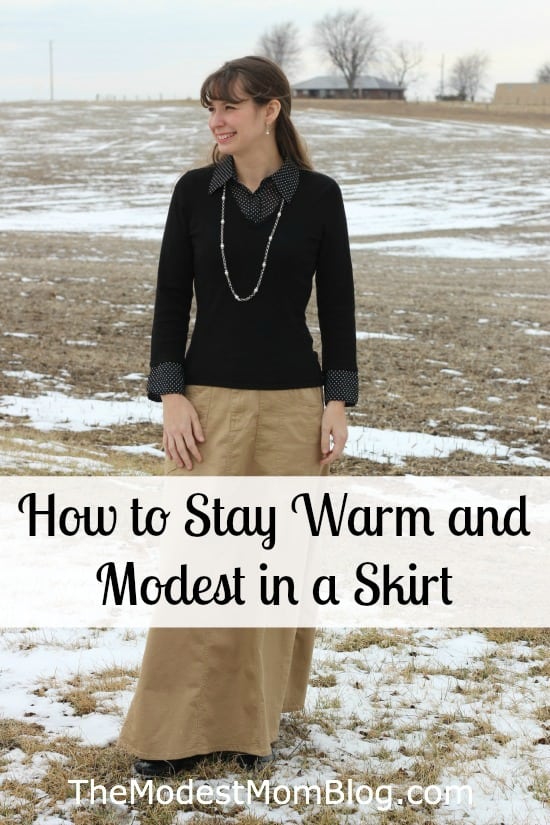 (Affiliate Links Included)
It truly is possible to stay warm in a skirt in the winter months – and be modest while you do so! This is a topic I receive a lot of emails about, and since it is freezing cold outside right now there is no better time to talk about it!
I've worn skirts through the winter since I was a little girl. Remember the stirrup pants that used to be so popular? Yes, I used to wear those, except they were under my skirts! If you get creative, you can stay just as warm in a skirt, if not warmer then if you were wearing jeans!
How to Stay Warm In A skirt:
1. Wear heaver skirts in the wintertime. Now is not the time for the lightweight cotton and chambray skirts. Pack those up during the wintertime or put them in the back of your closet! Heavier fabrics like denim, twill, corduroy, or wool work best. These will keep the heat in better instead of letting the cold air flow right through your skirt!
My favorite denim skirt is the Rainbow Denim Skirt!
2. Layer, layer, layer! I know some ladies don't like to layer, but I've always found it necessary during the really cold days. Yesterday the temperature was below zero, and I had on a camisole plus a very warm hoodie (does anyone else think that word sounds silly?!).
For layering underneath a skirt or dress, thankfully there are better options then the stirrup pants now! I wear fleece lined leggings all winter long. Yesterday both pairs of mine were in the wash, so I wore solid black pajama pants under my skirt since we were going to be home all day!
Other options for layering under your skirts are microfiber tights, or cotton tights. I've never been as warm with these on, but some ladies prefer them. Try and pick darker color tights or leggings to wear under your darker colored skirts. White leggings with a black skirt will not look right, and possibly will even look like long johns showing underneath.
3. Wear a warm slip under your skirt. I've never done this, but have heard of ladies who love to wear a warm slip, such as wool or flannel under their skirts in the wintertime. It would definitely help keep the cold air out!
4. Wear warm socks. You can layer everywhere else, but end up with cold feet and still be miserable all day long! While some people buy UGGS slippers and wear those all winter, they are a little out of my budget! Warm wool socks work great, and you can wear a pair of slippers over them in the house, or boots if you are going out. If you have a membership to Costco, they have a fantastic 3-pack of wool socks right now that are very affordable.
What about going out and playing in the snow? I've done all these tips and been warm while I play in the snow, but since I don't wear skirts out of a biblical conviction (meaning that I feel like I'm required to wear them), I don't have a problem bundling up in jeans or snow pants to go outside.
It's been quite awhile since I did this, but one year we had so much fun going snowmobiling at my husband's grandparents farm. I was all bundled up in snow pants and and a coat, and felt like a giant snowman! The only reason I prefer wearing snow pants of some sort while I'm out in the snow is I really don't like the bottom of my skirts getting soaking wet from the snow.
That is how I've always stayed warm in the winter months with a skirt on! It's not impossible so don't let the cold stop you from putting a skirt on!
*If you are wanting more modesty tips I wrote a whole chapter on Modesty in The Pursuit of Motherhood eBook! This 153 page eBook is written by 17 mothers, and has both practical and spiritual encouragement! It is on sale during January for just $3.99, to help you start the New Year with a great attitude towards mothering!