It feels crazy to be writing about high school, but we are about to start another school year next month and I will have a 10th grader! I thought I would share what I have learned so far, and help relieve some fears from those of you who are entering this season.
My biggest tip? Take a deep breath, your homeschooled student can make it successfully through!
I graduated as a homeschooler and my mom had Lupus from the time I was 11, but she managed to make it through homeschooling me even with her health challenges.
Transcripts do not have to bring on migraines, and there is help out there for those impossible subjects that you can't teach.
Let's ask the most obvious question first.
What about college?
Yes, you can homeschool your child through high school and they can attend college!
At this point Mosiah has not decided if he is going to attend college or not. We have encouraged him to start job shadowing some different people, and told him he could attend trade school if he doesn't attend college.
My plan of action for all my children though is to prepare them for college. I don't want them to decide in their senior year that they will attend college, but then be crushed when they realize they were not prepared for it. I don't know what God has planned for my children yet and I don't want to hinder them if God calls them to a certain career path.
That being said, I also want them to enjoy their high school years and embrace those last few fleeting years before adult life hits. At this point we don't have plans to do dual enrollment, as I want them to be home for high school and not in a college setting half of their high school years. That's just our plan though – there is not a one size fits all approach to high school.
What credits does your high schooler need?
Again, there is not an answer that fits for everyone. The credits you need depends on the college you hope to attend, and probably depends on the state you live in. I just know what is common for the state that I live in.
I'll give you a glimpse of what our 4 year plan looks like (it's honestly not totally complete, so I'll share what we have planned so far).
Math
9th grade- Algebra 1 (We used Teaching Textbooks)
10th grade- Geometry
11th Grade – Algebra 2
12th Grade- Consumer Math (still uncertain on this one, math has always been a challenge for Mosiah so I don't see him going into higher up math and I want him to have practical, real life math skills before graduating).
Science
9th grade – Biology with labs (We used Apologia Biology through a co-op setting which was extremely helpful for all the labs we did.
10th grade- Chemistry  (This year we are doing a different approach and doing more of a Charlotte Mason approach to chemistry, using the plans from A Gentle Feast and Sabbath Mood.)
110th grade – Physics
12th grade – Nutrition and Health (Still unsure on this one, it's my plan but I'll see what Mosiah wants to do at that point).
History
9th grade – Geography
10th grade – World History
11th grade- American History
12th grade – Not sure yet. 🙂
Electives
He will have quite a few electives in music when he is done, between private cello lessons and playing in a string group. He did basketball last year and joined a homeschool running group this year.
Online Programs
There are so many good helps out there now for high school! If you don't feel qualified to teach a certain subject, you can certainly find a way around that.
Here are some options that I know of.
Compass Classroom – this is the one I'm most excited about to use this year. They have some excellent resources for high school history, science, latin, and grammar. We are going to try the grammar for writers program this year.
Teaching Textbooks – They have math from 3rd grade-12th grade, and it automatically grades! You can even call in and receive tutoring help if needed.
Mr. D Math – We chatted with this company at convention this year and it looks like another great math option for high school. They offer self paced courses, or live math classes 2 times a week.
BJU  and Abeka – two commonly known homeschool companies that offer streaming and DVD options. I have really mixed emotions about this. I think doing one class would be good, but it would make a super long day if you used this for all your subjects.
All-In-One High School – I have never checked this out, just adding it to the resource list. It is a free resource to look into if finances are tight.
Schole' Academy – for those interested in a classical education through high school.
Excelsior Classes – An online option where students meet weekly for live classes.
There are so many more besides what I listed, those are just some that I have heard of!
Resources I like
It's Not That Hard To Homeschool High School Facebook Group
A Guide For Homeschooling Through High School by HSLDA
The Ultimate Guide to Homeschooling High School I bought this book and have referred to it often!
One thing I will admit, homeschooling gets more expensive when your child is in high school! There are so many good options out there, and some families need to pay for tutoring or co-ops to help them out. That's why I'm so excited to share I'm teaming up with some other great homeschool bloggers to bring you a HUGE gift card giveaway to Rainbow Resource Center.  We will be blessing TWO homeschool families with a $250 for you to use on curriculum, books, games, puzzles, or whatever educational supplies you might need!
We know homeschooling puts a financial strain on families – whether it's from living on one-income or buying curriculum for multiple children – the financial aspect of it can be very stressful.  Our hope is that we can bless a couple of homeschool families (although we wish we could bless many more) so they can buy the curriculum and supplies they need.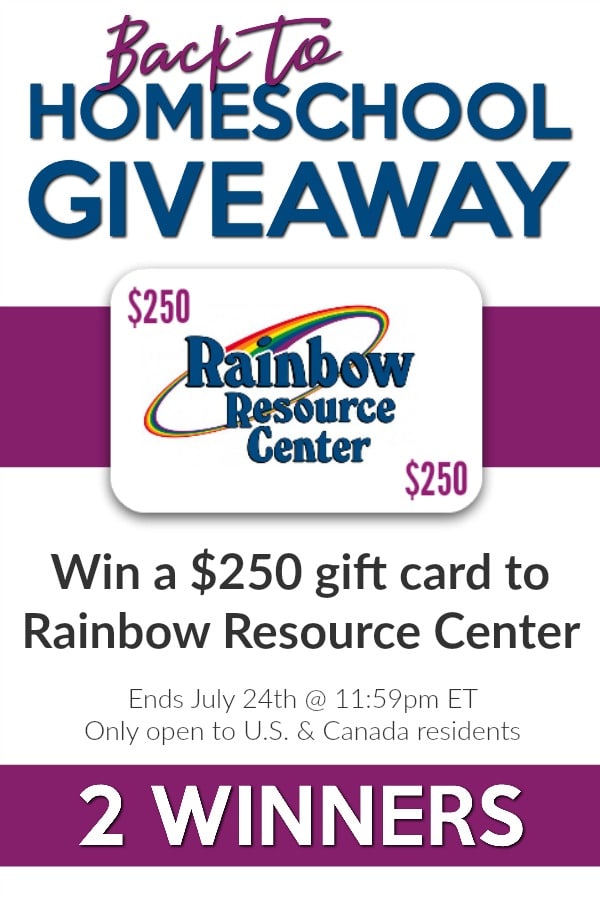 To enter for your chance to win, simply use the Rafflecopter form below to enter.  Now I know that is quite a few entries for you, but each of these bloggers has generously chipped in their own money to make this giveaway possible, so I hope you will take the time to do all of the entries.  And hey, the more entries you do, the better your odds are of winning!
Giveaway ends July 24, 2019 at 11:59pm ET.  Must be at least 18 years of age.  Must be a resident of U.S. or Canada to enter.  Selected winners will have 48 hours to respond to email notification to claim their prizes or another winner will be drawn.  By entering this giveaway, you agree to be added to the email lists of the participating bloggers (see the Terms & Conditions on the Rafflecopter form for the complete list).
a Rafflecopter giveaway