December 1st always comes before I'm ready. Since we own businesses, Black Friday and Cyber Monday take a lot of our energy, and before I know it, Advent is upon us. I love spending the month of December with my children, doing fun activities like making paper snowflakes for art, reading, baking, and singing Christmas hymns around the piano together!
Advent and all these special memories don't happen without planning, though. You might be like me and are just now getting it all pulled together. So this post is for all those moms who are scrambling to get ready for December! 🙂
Advent Ideas
The word Advent is derived from the Latin word adventus, meaning "coming. We spend this time looking forward to the time when we celebrate Christ's birthday, even though we tell our children that we don't know when Christ was born. It's a time to stop and focus on this important part of our Savior's life. Without His birth, there could be no death. Without His death, there could be no salvation. It all ties in together. We talk about all of this during the month of December.
Churches start the advent season on the last Sunday in November. As a family we just start it on December 1st. Like I said earlier, I have to get through Thanksgiving and Black Friday before I can focus on advent. 🙂
This year I'm really feeling the need to feed myself, and not just my children with the familiar yet powerful story. I want to experience again the fear and then joy that Mary must have felt, the shock that Joseph experienced, and that long journey to Bethlehem which leads them to the stable.
If you are like me, you might be wondering what resources are out there to help you and your family celebrate the birth of Christ. Thankfully I found a few that I'm excited about using!
I kept hearing online friends talk about this ebook, and when I went to read the sneak peak I knew this was just what I was looking for! Here is the description:
This book is for the woman who craves a less crazed-feeling Christmas, who longs for a season that is intentional and full of joy. Including 25 devotions, each of them guilt-free, inspiring, and able to be read in 10 minutes or less! As you prepare your heart for Christmas by reading through these pages, you'll be inspired to drop the pursuit of perfection and chase holy.
The great thing about this book is you can just get it to read on your computer or tablet, since time is short on being prepared! 🙂
Along with this, I'm going to be doing the #HeartinHandChallenge with Mackenzie Monroe (Cultivating the Lovely). It's a free download, I printed it off, laminated it, and I'll be using it along with a travel notebook.
If you haven't discovered planners and notebooks and such, Blitsy is an awesome place to look! I've gotten planners and stickers from there, and next on my wishlist are some cute Travel Notebooks. They have really good deals – it's like Zulily for planner people!
This whole line from Carpe Diem, called the Reset Girl is calling my name! They have stickers that go along with this line. I LOVE it! Ok…totally not Christmas related. Where were we?…
Advent with the children
There are a lot of creative, fun ways to involve your children in Advent! Here are some things I have planned.
The older children will write the scriptures from the #HeartinHandChallenge down with me each day, for copywork.
We are doing a Jesse Tree for real this year! It's actually happening people. Stop the press! Front news headline!
We always try to start, but life happens and we don't get our paper ornaments colored and it all falls apart. When I went to our local homeschool convention this year, a 13 year old boy was there with a booth selling all the homemade Jesse Tree ornaments he had made. They were $40, but it also came with a devotional put together with scriptures and hymns to read. I ordered a set and it just came in the mail last week! The children don't know about it yet and they are going to be SO excited! We'll put all these ornaments on a small tree.
If you are crafty, you could totally make these. It was worth the $40 to me because I would never find the time to put this all together! And I loved supporting a homeschooling student.
I don't know if he will have any to sell for next year, but here is a Facebook group he has!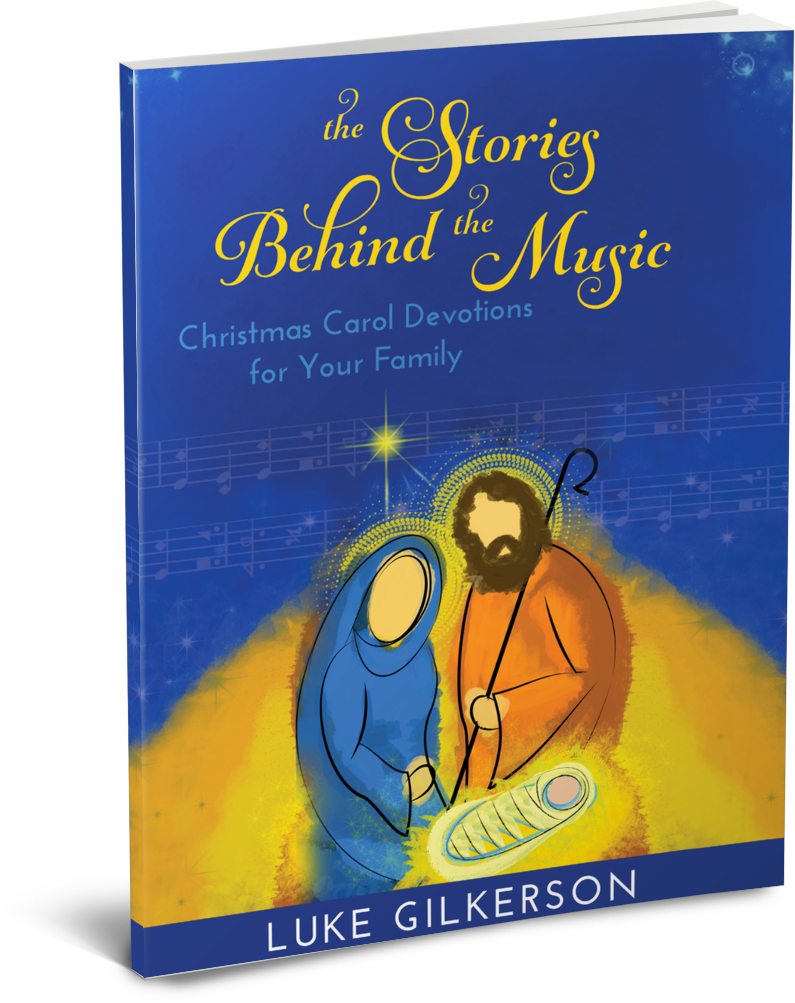 Music is very important in our home, and we love singing all the Christmas Carols together. We will be using this ebook and picking some of the activities that goes along with it.
The Stories Behind the Music features 15 Christmas Carols and a lesson to go along with each carol. This is great for family devotions!
Each lesson includes:
A story about how the carol was written
Lyrics to the carol
A scripture reading
An explanation of the Bible passage
Discussion questions for the family
A short prayer
Sheet music for each carol
A craft that can be completed together as a family (We will not be doing every craft!)
There are a lot of other resources out there, but that's what we are doing this year! I know better than to plan anything else besides this. 🙂 I'd love to hear what you're doing this year!