If this will be your first year as a homeschooling mom, my heart goes out to you. That first year or two can feel so incredibly overwhelming, and I wish every single mom had an experienced homeschooling mom to mentor her through those years.
I went into homeschooling my children feeling very prepared. After all, I was homeschooled k-12th grade myself and I thought I knew what homeschooling days looked like. However, I must say they look totally different from the perspective of being the teacher versus the student. As the teacher, doubts quickly arise and you wonder if you are making wise choices for your child or ones that will hamper their education.
As parents we only want the very best for our children. We don't want our children to fall behind. We don't want them to not be reading when it seems like all the other 5 year olds around them are. So, naturally, we push and encourage, and spend hours reading reviews to find the perfect curriculum for kindergarten.
The thing is, what if your child doesn't need a fancy curriculum for kindergarten? What if it could actually do more harm than good?
I'm a firm believer in keeping things simple during the pre-k and kindergarten years. That actually goes into first grade as well.
Since I have six children, I'm now at the point that my little ones want to do a workbook because they see the older ones doing schoolwork, and they want to feel involved. So I get them simple workbooks to keep my pre-k children busy. Some of the books I've used are:
Horizon's Preschool Book One and Two (I never get all the extra stuff that goes along with this, and the teacher's guide is totally not needed.).
Simple workbooks from Costco (they are cheaper, but honestly not my favorite).
That is just to fill in for those times when all the other children are sitting at the table, and they want to be there as well.
My idea of kindergarten "curriculum" is one filled with snuggles on the couch while mom reads books, dancing around the house to classical music, finger painting at the table, dot markers with an activity book,  stickers and paper, scissors and paper to cut all sorts of shapes out, and plenty of outdoor time for play and nature exploration.
Learning can happen naturally at this age. Yes, the ABC's need to be taught, but it doesn't have to take 3 hours every day with worksheets and a $400 curriculum package. Instead it can happen while they help you bake and you sing the ABC song with them. Numbers just seem to be learned naturally, and usually by the time they are ready for a kindergarten math book, they know how to count and can write the numbers with help. But what if they're not ready? Don't stress about it. Give it some time and they will most likely come around!
While the pressure just seems to keep increasing that children should learn how to read in kindergarten, most of my children have been 7 before they are actually reading. Some of my children have been close to 8, but they are never "behind" because once they take off reading, watch out! I can barely keep them out of books and they devour everything they can get their hands on!
We use All About Reading to learn how to read, and I've been so thankful for this easy to use curriculum. I'll confess, I really dislike teaching children to read. It's a tedious job that requires a lot of patience as they s-l-o-w-l-y sound out each word. But then when you see it all start to click, what a joyous day!
Right now you can follow along the All About Learning Blog as they offer a free series of cut and paste alphabet crafts for preschoolers.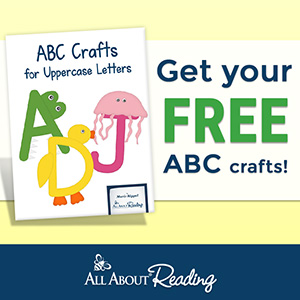 If you are wanting an actual curriculum for pre-school and kindergarten age, I have two that I would highly recommend.
The Heart of Dakota Little Hands to Heaven is a really sweet book for children ages 2-5.
Little Hearts for His Glory is for kindergarten age, for children 5-7.
A Year of Playing Skillfully – This is an investment, but it's one that would be worth it if you have several children close together! I stumbled across this company at one of the homeschool conventions we attended this spring with our businesses. We were set up very close to them, and my 7 year old daughter couldn't stay away from their booth! She was totally in love with all of the hands on activities they had there, and I was so impressed with the beautiful pictures and lovely ideas that this curriculum has. You can actually use it for children ages 3-7.
So what about first grade? It sounds nice to keep it simple during the itty bitty years, but surely you have to get serious when first grade rolls around, right?
The only thing I do in first grade is reading, math, and handwriting. That's it. And then I read to them whenever I can. Besides that I let them play, build legos, play dolls, be outside, and enjoy life as a child. The time for more serious book work is coming, but I've found that's all they really need at this point. Younger children in a larger family might naturally pick up some history or science if you are reading it to the older ones, but don't feel like you need a fancy science program. The one year I tried using BJU science for a first grader it was almost ridiculously simple and not worth our time.
If you want to spend the early years teaching practical life skills that would set a solid foundation for the rest of their life, check out Skill Trek. It's a brand new program that just came out, and I'm excited to use it this year for all of my children! It goes through the teen years, but starts in Pre-K and has simple life skills for children to work on. Some of these life skills we just forget about teaching, so it's nice to have it all laid out.
Learning happens in real life so immerse yourself and your children in it. Get off Facebook, shut the computer for awhile, turn off the TV, and live life. It will do your child a world of good if you bake cookies with them, read stories to them like Billy and Blaze, and then maybe set up the sprinkler for them to run around in.
Blessings on your new school year mama. It's all going to be ok. Take a deep breath, and then go pull out a book and read to them. You will be amazed over how awesome the year will go if you focus on relationships over bookwork.