We are in the middle of the first homeschool semester, and I realized I haven't given an update to how our year is going.
Like most families, we started out strong and have been struggling to keep the momentum up lately. I'm already looking forward to a holiday break! However we recently switched a few things up so I'm eager to see if it helps our days more.
What Is Working
Reading ~ We started the year using Level 2 of All About Reading. We should be done with Level 2 by January, and I've been so pleased with how well it has helped our 7 year old improve her reading. I'll definitely get the next level and continue to use it with her.
Our Kindergarten age child is using Level 1 (slowly, but honestly that is more my fault than hers!). She really likes it and once again it's proving to be the best reading program for our family!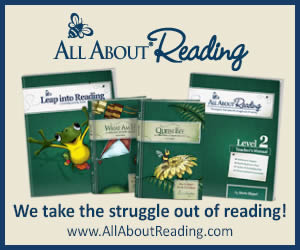 History ~ Notgrass history is a huge hit with my 6th grader, just like it was last year! He is using the Uncle Sam and You set and has started the second book!
Science ~ Our 6th and 4th grader have used Apologia books again this year. I would say it's been a big success for our 6th grader and a moderate success for our 4th grader.
Morning Read aloud Time ~ I feel like I've been pretty consistent with our morning time. Well, as consistent as a mom with a nursing baby who is up a lot at night can be.
We definitely have our mornings where we start school super late, or we have a shortened version of our morning time, but I'm pleased with the books we are reading through together.
Character Badges ~ This continues to be a help for training our children in good character traits, even in school! You can write in one area yourself that you want the child to work on each month. I often write in good student, and if they had a good attitude during their school day they get a check at the end of the day in that category.
(The pre-order special of saving 10% with the code LAUNCH ends November 14th! We can't wait to ship these sets out the first of December to everyone who has been ordering. We're getting very close and the day we hold a complete set in our hands will be super exciting!).
What Is Not Working
Grammar ~ I shared in the curriculum post for this year that we were going to try a new grammar program. Growing With Grammar came highly recommended by several people online, and then a homeschooling mom who used to be a grammar teacher raved about it at a local homeschool book sale.
It was the worst curriculum (for us!) that I picked for this school year. My boys were constantly telling me they didn't understand it, and we were all in tears. I finally ditched it. When a curriculum makes a mom want to yell or cry, it's time to move on! We went back to the original grammar curriculum I had purchased, which is First Language Lessons. That has been fantastic! I have both boys in level 4 together, and our 2nd grader is slowly making her way through level 2.
Teaching Textbooks ~ I hesitate to put this in the not working category, because the main problem is that our PC computer the boys use for school has not been faithfully working! It's been beyond frustrating to me. I send them downstairs to do math and they come up saying the computer is not working ~ I've heard it over and over and over.  Sean fixed it over the weekend *again* so I'm hoping we are good to go.
Israel (4th grade) has had trouble remembering his upper multiplication facts, which is making division tricky. We are actually adding Math U See, the Gamma level to our day now so he can just focus on getting his multiplication facts learned. I also bought the Xtra math app for the iPad and all three of the children are using it daily for drills.
History ~ Did you notice that I only shared the success of our oldest child when it came to history? We are trying to use Beautiful Feet guides for our 4th and 2nd grader. I love the curriculum, the problem is just with us! My 4th grader has lost his history reading books more times than I can count this year. My patience has definitely been tested over this! As for our 2nd grader, it's just more of getting it all done, and fitting in reading the history books just to her.
So…we are going to actually do a huge switch in the middle of our school year and go to Tapestry of Grace, Year 2! I'm one of those crazy homeschooling moms that will actually switch curriculums.
I almost bought this curriculum to use, and after reading Amy's post from Raising Arrows on how she uses Tapestry of Grace with a Large Family, I am excited to give it a try. My goal is to start it this coming Monday, I'm getting everything set up right now.
What Has Been Encouraging Me
Homeschool Made Simple ~ This DVD set has helped me keep focused on what my true goals are. I've been so inspired by watching this, and plan on watching it again this school year. I crave mentorship by older homeschooling moms, ladies who battled in the trenches during the early years and successfully made it through. I think I so desperately want this partly because my mom is not here to give me advice like I always thought she would be.
Sally Clarkson Podcasts ~ Once again, an older mom who has been there, done it, and can give sound advice. Sally recently started these podcasts and I've enjoyed listening to them while I fall asleep at night or cook dinner.
Joining a Homeschool Group – This is a brand new thing, but I'm going to join a local homeschool group. It's actually not for my children, just for me! I've written before on how I can't fit in field trips and be gone from home a lot, but I went to an evening meeting that was just for moms and it was so encouraging! My sister and I are both going to join and attend the monthly meetings together, I'm really looking forward to it!
I'd love to hear how your homeschool year is going! What are your successes or struggles?