I first started hearing about Young Living essential oils from a friend at church. She told me that they were using it successfully with their family, and I was especially curious to hear that they were using it on their young children to help fevers, colds, earaches, and other troublesome illnesses that children get. Then I joined a homeschool co-op and heard other mothers talking about wonderful the oils were. One mother (not connected with Young Living in any way) told me that her son was scraped up really bad in an accident, and that someone gave her lavender essential oil to use on his scrapes. She was amazed over how well it healed his scrapes, and she said it hardly left a scar!
After hearing those testimonials I paid more attention to things I kept reading online about how fantastic the oils work. I have decided to take the plunge and learn more about the oils, and share them with you how they are working for our family. I recently mentioned on my Facebook page that our youngest had a high fever, and quite a few people mentioned that they always use Young Living essential oils to bring the fevers down. I'm excited to use the oils on my children and to also be a supplier for them.
An online friend has put together a fantastic way to slowly start using the oils! I'm going to join her challenge and I'd love to have you be part of it also.
How would you like to try an essential oil each month this year?
Introducing…
The 2013 Essential Oil of the Month Challenge
The 12 month oil challenge is designed to be fun and rewarding. Not only will you get to experiment with the world of aromatherapy and the power of essential oils, you will end up with 12 versatile oils that you can knowledgeable and successfully use from here on out!
Each month you will receive your oil of the month and 30 ways to use that oil.
You will also be privy to a Facebook group where we talk about our results! You may purchase your oils through these two ways:
#1 Through Caroline Allen  directly at retail cost at the Young Living Website
#2 Through your wholesale account. Sign up here
Look at the oils we'll be covering…
January -Thieves, $41.78* ($31.75 with your own wholesale account)
February-Joy, $50.66* ($38.50 with your own wholesale account)
March-Lemon, $13.82* ($10.50 with your own wholesale account)
April-Lavender, $28.62* ($21.75 with your own wholesale account)
May-Slique, $32.57* ($24.75 with your own wholesale account)
June-Valor, $26.97* ($19.75 with your own wholesale account)
July-Purification, $23.36* ($17.75 with your own wholesale account)
August-Stress Away, $29.93* ($22.75 with your own wholesale account)
September- Peppermint, $25.99* ($19.75 with your own wholesale account)
October-Balsam Fir 5ml, $32.57* ($24.75 with your own wholesale account)
November-PanAway 5ml, $39.14* ($29.75 with your own wholesale account)
December-Frankincense 5ml, $52.63 ($40.00 with your own wholesale account)
*Plus Shipping of $7.99
Purchase your bottle, use the oil everyday and come to our private Facebook group and tell us your results.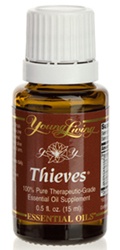 January Oil of the Month–Thieves
Thieves® was created based on research about four thieves in France who covered themselves with cloves, rosemary, and other aromatics while robbing plague victims. This proprietary essential oil blend was university tested for its cleansing abilities. It is highly effective in supporting the immune system and good health.*
$41.78 plus shipping
Includes:
Thieves essential oil
Access to the challenge group
30 ways to use your oil
Support of experience oilers helping you along the way!
NOTE: You must own and use the oil of the month in order to take part in the challenge.  This group is designed for use with Young Living brand essential oils only.  Please do not try to substitute another oil. The tips are only designed for Young Living oils.
 *I am not licensed to give medical advice. Use all oils at your own risk.*
You may also like: